What are the opportunities and challenges for small island state foreign policy in the changing world political environment? This was the key question that I explored at a talk at the Ministry of Foreign Affairs of the Republic of Seychelles on the 20th of December. The event was hosted by the minister who gave a short welcome address.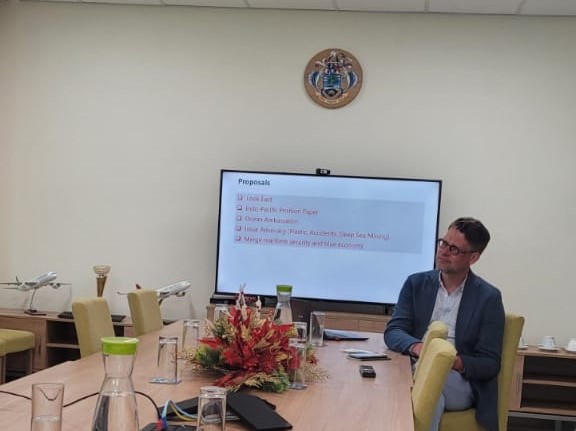 In my talk I started in revisiting an article on the Seychelles co-authored with Anders Wivel. In the article we explored how Seychelles has managed to gain a global reputation and status despites its very low capacity. As we argued this can be explained by the ways that the country adopts productively the principles of smart small state foreign policy and by its style of diplomacy of diplomacy driven by pluralism and pragmatism – what we dubbed 'creole diplomacy'.
On this basis, I discussed current world political master trends that are likely to influence the status and diplomatic action space of Seychelles, emphasizing 1) the return of geopolitics, in particular given the rise of Indo-Pacific thinking, 2) the rise of informal governance and 3) the ocean revolution. Each of these trends creates new challenges and opportunities. The analysis is forthcoming as a short article in the Seychelles Research Journal.
Based on this analysis I made five proposals for how Seychelles can seize opportunities and continue its entrepreneurial style of diplomacy. Firstly, Seychelles should look east and strengthen its bilateral relations to Maldives and Sri Lanka, but also seize opportunities to work closer with Southeast Asia and the islands of the South Pacific.
Second, the government would benefit from issuing a paper in which it outlines its own understanding of the Indo-Pacific, the role of Seychelles therein, and its vision for the future of this regional construct.
Thirdly, the country could benefit from better coordinating its ocean-related diplomacy under the notion of 'blue diplomacy'. This could entail the creation of the post of an ocean ambassador who coordinates participation in ocean summits, adds a face to Seychelles ocean politics and speaks on behalf of Seychellois marine life.
Fourthly, I argued for the need to continue strong advocacy and campaigning work on core ocean issues. This could particularly focus on three issues: Plastic pollution and the global campaign against plastics; the prevention of and response to shipping accidents, that requires more surveillance of shipping activities but also capacity building on a regional level; and supporting the ban of deep sea mineral mining.
Fifthly, I suggested that Seychelles can draw on its reputation as an innovator in developing the blue economy and maritime security agendas to drive forward the discussion of how synergies between both can be build.
The event continued with a discussion of creole diplomacy, the implications of the Indo-Pacific construct for Seychelles and which issues the foreign policy might want to focus on.